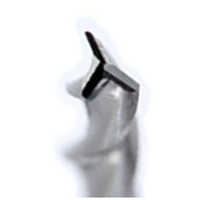 Triple flute Drill Bits
Product Description
Taiwan Microdrill Co., Ltd. is a reliable provider of triple flute drill bits and many such cutting tools. This kind of drill bits, as the name implies, has three flutes, and screw point. This twist drill bit is ideal for drilling holes in metal, wood and plastic. It can be used in woodworking, for creating holes that are both, accurate and splinter-free. The metals it can work upon include alloy steel, stainless steel, structural steel, cast iron, etc. The sold carbide based drill bit is hard, tough, wear resistant, high quality and has long life. It can be attached in tools and equipment, like:

Hand drill
Electric drill
Drill press
Lathe
Customers can avail triple flute drill bits in 0.04~1.4mm drill diameter and 3.175mm shank diameter.

Technical Specification of Triple flute Drill Bits:
Enhance precision of drilling
Drill diameter: 0.04~1.4mm
Shank diameter: 3.175mm
China patent Nos. ZL200772954, ZL200017361
Taiwan patent Nos. M247322, M294375
Patent-pending in other areas. Infringements are prohibited.
Trade Information
as per requirement Per Month

against order Days